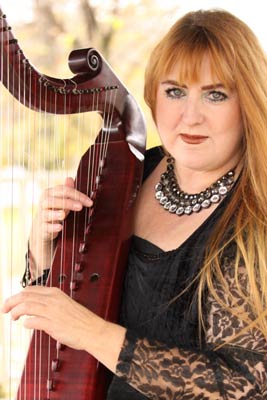 TESTIMONIALS
Whether it is a wedding, vow renewal, art opening, or birthday party, Kim Michele will enhance the evening as no other performer can. Here are just a few lines of what they are saying.
Having worked for more than thirty years with our population and observing people entertaining our residences I can say with confidence, I was really impressed with Kim's natural personal warmth and total comfort with our residents, and how easily she drew the audience to participate and use their imaginations. Kim has such a great gift and I'm so glad she agreed to share it with us that afternoon in March.
Jackie Booth
Manager Co-coordinator Services, Participation House, Special Needs. Markham, Ontario
On a lovely evening not too long ago, I had the privilege of hearing a most beautiful angle! Not just a voice, but the age old sound of a most unforgettable harp was heard. Kim combines singing and playing in a way that is truly wonderful. In our troubled times, this was a bit of heaven!
Ms. Edie Bergl
Artist and Guest at the JD Carrier Gallery Art Exhibition
Kim thank you for sharing our special day with us. Bruce and I want to thank you for helping to make our day so perfect! The music was lovely and everyone commented on how beautiful you played. Having a Harpist at my wedding was a dream I had and I want to thank you for making my day complete.
Sincerely,
Dawn & Bruce Nottle
Kim's professionalism and ability to play a wide range of songs and overall skill were extremely impressive. We couldn't have asked for more! We can't thank you enough for adding such elegance to our special day. We would highly recommend Kim Michele to anyone.
Warm Regards,
The Nelson Family
Kim Michele was the perfect addition to our Parents 25th Wedding Anniversary. It was magical and made the night extra special for us all. Our family and friends are still raving!
Courtney
Dear Kim,
Josh and I wanted to thank you so much for your lovely performance yesterday. Kids and adults alike enjoyed your energetic rendition of Annie's favourite nursery rhymes and it really made Annie's milestone celebration so special. We will certainly recommend you to any friends looking to hire a musician for their little one's birthday and thank you so much once again.
Best,
Jaclyn and Josh
Summer day greetings to the Magical Minstrel. You were wonderful at the Human Bean.
Dianne Chandler "Lady Di"
Durham Folklore Storyteller
My Dearest Kim
I will always remember out first Stellar Festival! The Dear Harp Girl that made my fantasy come true at our first Festival! I look forward to hearing your storytelling and you play your magic harp on Sunday.
Stella Ducker
Director of the Stellar Literary Festival promoting Durham Region & Canada's musical talent through the Stellar Showcase, which she founded in 1998 and founding member of FAMED.ca (Film Arts Media Entertainment of Durham)
As someone who delivers creativity workshops for a living, and as a former professional musician, it takes real talent to impress me. I was recently treated to the music and songs of Kim Michele at a Gallery Opening of the Avenue Road Arts School. Kim's Celtic harp provided a delicate background for the visitors interested in taking in the artistic offerings. And then Kim started to sing and people stopped, and really listened –  as did I. Kim is a versatile performer who brings artistry, and a professional presence and to whatever venue she graces. Do yourself a favour: just listen to her. You'll surely hear exactly what I'm talking about.
Bob Presner
, President, Beyond the Box, Inc.
www.beyondthebox.ca
During the summer in July 2012, the Learning for Life camp had the opportunity to have Legends, Lore, Music & More facilitate a workshop for youth with special needs ages 13 to 24 years old. Legends, Lore, Music & More presented a hands-on, collaborative workshop that was geared towards the City of Toronto summer camp for Adapted and Integrated Services. The focus was on leadership skills through storytelling, music, dance, and drama which included historical narratives celebrating this year's anniversary of the War of 1812.The youth really enjoyed the workshop and we would definitely like to have Legends, Lore, Music & More return to host other workshops for us in the near future. We would highly recommend Legends, Lore, Music & More to other organizations.
Matt Hilts
Community Recreation Programmer, Special Needs Coordinator
The Students at High Park Day School were eager and enthusiastic to participate in the series of programs delivered by Harpist Kim Michele. Storytelling and Music Workshops with Hands on Harp fosters confidence in every student- even those who did not ever think of themselves as artistic or creative. We look forward to continuing this special program at our school.
Amanda Dervatis
Principal, High Park Day School, June 2014